Substantive editing is meant for those authors who have difficulty in expressing their thoughts through their writing. Even if you are a native English citizen, you might not have the skill of drafting scholarly documents and hence may not convey the correct meaning, ensuring pleasant readability and compliance with formatting and writing standards.If you are faced with a situation like this, you can hire our service of substantive editing to correct your document. Substantive editing is also referred to as comprehensive editing or developmental editing and does a 360 degree edit of the document to ensure that the document meets its intended purpose.
Substantive editing, what it entails?
The hybrid of our substantive editing service covers the following: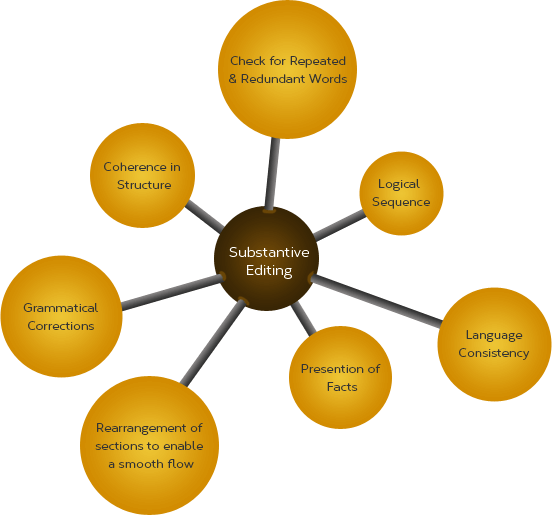 Confused with which service to choose? Click here to compare now!
Confidentiality
All our services including substantive editing service ensure 100% confidentiality and data security through the process we follow. Your data files are deleted as soon as you accept the completed work.

Turnaround
We recommend you to opt for 5 -14 day's turnaround time for this service.

Satisfaction Guarantee
We have had 100% satisfaction rate for our substantive editing services in past 6 years, and over 94% of our clients whom we surveyed confirmed recommending our service to peers.

How to Order
To opt for substantive editing services, please get in touch with us at
info@editnpublish.com