With an in-house team of journal publication experts, we at EditnPublish have become the leader in offering professional editing and formatting services to journal publishers across the globe. Working closely with the publishers, we ensure to review and develop manuscripts that stand up to the journal guidelines.Our editing and formatting services for publishers seek to meet or even exceed journal standards. Our dedicated staff is keen towards offering prompt services that are customized to individual publisher's requirements. Journal publishers would definitely love our services.
Grab wider audience SERVICE FOR PUBLISHERS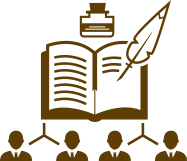 Scope of work in services for publishers
Adopting an editorially driven growth planEditors work towards ensuring the manuscript's scholarly reputation and economic well-being. Areas under focus are: monograms, advanced texts, reference books and related multimedia publications.
Editing, designing & producing manuscripts at the outset for all markets, print and digital, alike Here, editors ensure the manuscripts are more discoverable and searchable than ever.
Personalized Service Outflow Regardless of the diverse streams of journals, publishers can seek our expert services that are casted to fit individual needs.
Confidentiality
Confidentiality is the first concern of customers and our service for publishers respects this concern. With us, you can experience 100% data security as we never share your project details with any third-party.

Turnaround
Services for publishers can be availed in accordance to a turnaround time of 4-14 days.

Satisfaction Guarantee
100% customer satisfaction is our motto. While offering services for journal publishers we ensure to abide by this motto.

How to Order
Do get in touch with us at
info@editnpublish.com
to avail services available for journal publishers. Contact us to take advice on journal publishers. Place your order now!