Grooming your dissertation for reputed research journals
This entry was posted in Category Dissertation , on May 02 , 2013.
A lot of hard work goes into the creation of an absolutely brilliant dissertation. If you are one of those research scholars who have created a brilliant dissertation after putting in a lot of dedication, then getting your research document published over a reputed research journal can turn out to be an added advantage. This blog would allow you to get an insight into how you can groom up your research document so as to submit the same to a renowned research journal.
The errors which you need to look for while editing and proofreading your dissertation for journals are being shown in a pictorial form as below:-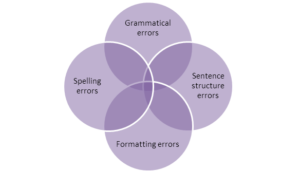 In order to ensure the 100% approval of your manuscript at a reputed research journal, it is quite essential for you to opt for highly professional dissertation editing and proofreading services offered by experts. These dissertation editors are competent in editing dissertations of any length and any complexity. They make it a point to eliminate all the errors which might have entered into the dissertation while it was being written down.
While shaping up your dissertation for a renowned research journal, it is important for you to ensure that the paper is being formatted as per the guidelines set by the respective research journal; you intend to publish the same at. The research paper needs to be made 100% flawless so as to ensure that the research journals accept the same on the very first submission basis. I am sure if you edit your manuscript in a proper manner, your paper would surely get an easy entry into the top-rated research journals available over the internet.
Help us resolve your doubts. Leave your questions and comments below or reach us at info@editnpublish.com